Bassik – simple, clean, easy. This is the foundation of what KnuKonceptz calls Bassik. Easy to install, simple to connect and cost effective! That philosophy continues with the Bassik 8 Gauge Amp Kit. Like all KnuKonceptz cable products the Bassik 8 gauge meets American Wire Gauge standards. The core of the Bassik power cable is made from large gauge Copper Clad Aluminum (CCA) strands. Using a larger gauge strand helps reduce overall cable cost and that savings is passed onto our customers. Bassik power and ground wire are insulated with translucent PVC. Providing fuse protection of your vehicle is the Bassik 8 gauge ANL fuse holder. Each BK-AMP8 amp kit includes a 40A AGU fuse.
Supplying signal to your amplifier is the 2 Channel Bassik Twisted Pair RCA cable (16ft). Left and right stereo signal passes through this noise rejecting RCA cable for a clean and clear audio signal. Completing the amp kit is KnuKonceptz Bassik 12 gauge speaker wire (15ft) which passes your amplifier's output to your subs.
KnuKonceptz Mission Is To Create Unique Audio Installation Products. We Offer Quality & Unique Home And Mobile Audio Accessories World Wide. Customer service available should you need assistance in selecting the product that is right for your application
This 8 Gauge Amplifier Installation Kit Includes:
5 meters 8 AWG Blue Bassik CCA Power Wire
90 cm 8 AWG Black Bassik CCA Ground Wire
One AGU inline fuse holder with 40A fuse
One 2 Channel 5 Meter Bassik Twisted Pair RCA
4.5 meter Bassik 12 gauge CCA speaker wire
5 meter Blue 18 Gauge remote wire
2 gold plated 8 gauge ring terminals
How many watts can this amp kit handle?
At KnuKonceptz, we do not use "watts" to rate our amp kits. This is a very inaccurate method to determine what the proper gauge wire required for your amp installation. There are many amp manufactures and not all of them represent the output of their product accurately. Please refer to your amplifier's fuse rating, this is a number a manufacture can not fake, well they could but it would put their product in harms way! Add up the fuses on the end of your amp (two 20A fuses = 40A total draw) If this number is under 40A, this kit will fit your application. If over 40A, a larger gauge wire would be required or use our Kolossus Flex 8 gauge amp installation kit.
Can I alter this kit in any way before purchasing?
Our amp kits are made in large batches to reduce cost, which is passed onto you. We can not alter them in any way. Should you need to make alterations, you would have to purchase the items individually from our shopping cart.
Additional Information
True Gauge CCA Cable
Standards exist for the safety and benefit of the customer. All KnuKonceptz cable products meet or exceed American Wire Gauge standards. When these standards are not met, your safety and our integrity are lost.
Our Bassik series of cable meet exact AWG specification for the appropriate gauge indicated. KnuKonceptz KCA and Kolossus Kables exceed AWG specifications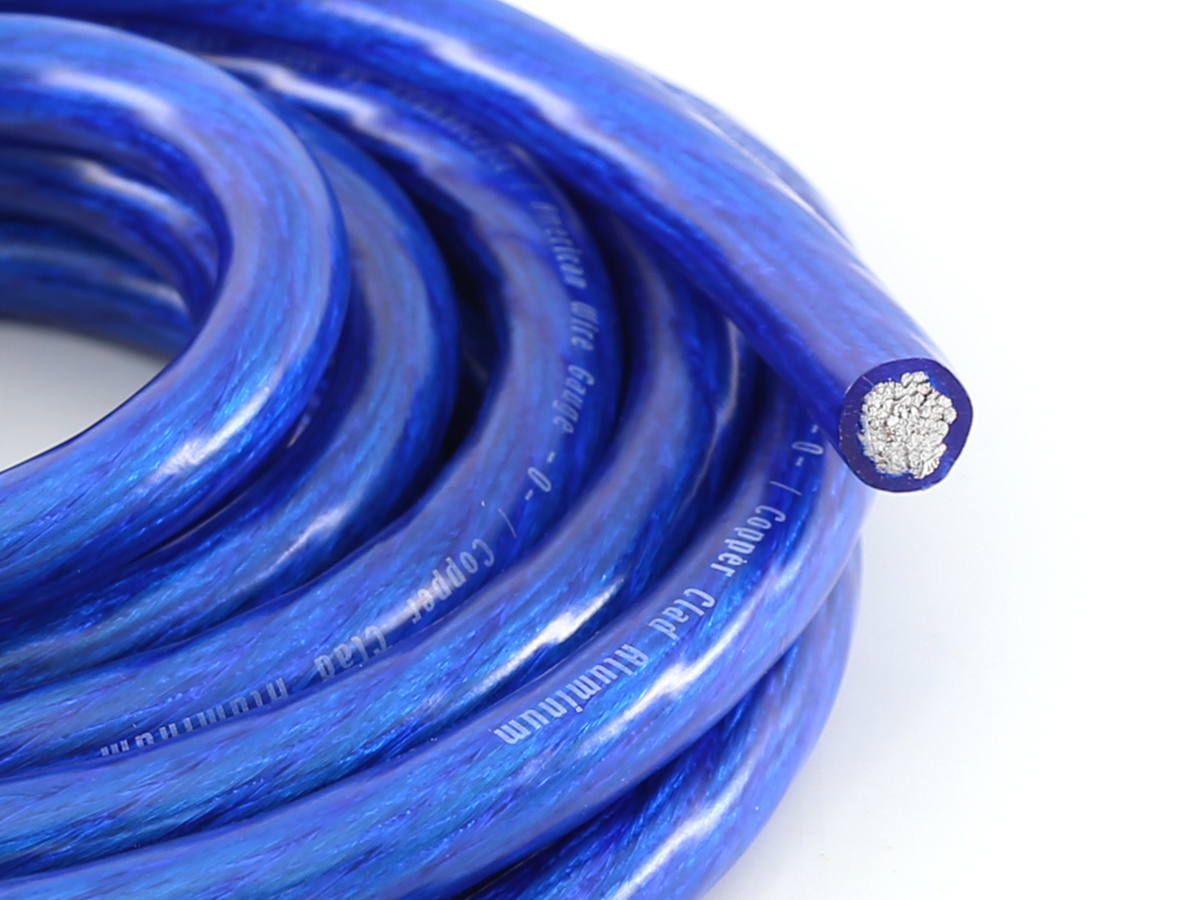 Bassik RCA Cable – Simple and Solid
Oxygen Free Copper construction.
Twisted Pair Geometry for noise rejection.
Ultra Flex, soft touch PVC allows this cable to fit in tight places.
Simple color coded channel identification.
Gold plated RCA connectors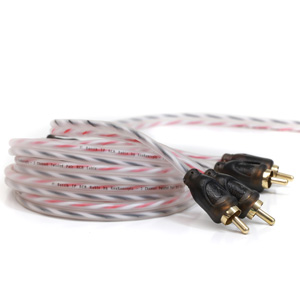 Plain and Simple Specifications
Wire type – CCA or OFC
These materials are commonly used, but not commonly stated when shopping online. Know what you are purchasing. Both metals are capable of performing up to their rated loads.
American Wire Gauge
Wire gauge is crucial to powering your system correctly. Undersized cable will create unsafe conditions and may shorten your amplifier's life.
Max Load (amps)
Wire's ampacity changes with gauge and materials. KnuKonceptz does not rate cable based on watts. Amplifier manufactures do not always truthfully state the output of their product, check your on board fuses!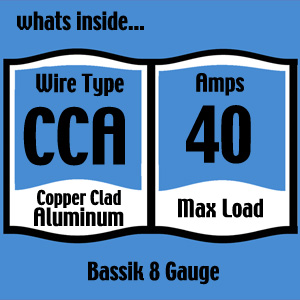 True American Wire Gauge (AWG) Products
Using American Wire Gauge standards, the gauge of stranded wire is determined by the total area of the conductor.
To calculate this you would take the area of each strand and add it together. This area, in square mm, then determines gauge.
Diameter is not as critical with stranded wire, this is due to the tiny air gaps between each strand. Diameter may fluctuate with strand size and how tightly wound the rope of the cable is.
The smaller the number, the larger the wire, until you reach zero or aught (0). From zero, you then have double aught (00 or 2/0), three aught (000 or 3/0) …
Based on AWG, this cable meets 0 gauge specification
Copper Clad Aluminum – Best Value
Copper is the best conductor, but the price, CCA makes a great bang for the buck option.
Always follow the manufacture's max rating on battery cable. Excessive loads will cause more distortion in amplifiers, create more heat and will shorten the life of your electronics
Proper termination is crucial for an increased life span. Always check that connections are clean and secure.